NEW for Halloween and fall eBay auctions, I had a GREAT time designing these just before my Mom took ill and spent a month in and out of the hospital. She had new & improved hardware installed ~ a total of 3 arterial stents and a pacemaker! We've started calling her the Bionic Woman ~ anyone remember Lindsay Wagner??!! I'm so happy she's finally on the mend for we had some very bad days fretting and worrying about her recovery.

I'm starting to feel like I enjoy the graphic design work more than the sewing, stuffing, painting, & "primming" handmade items! Without any formal education or training, it's provided a real challenge for me.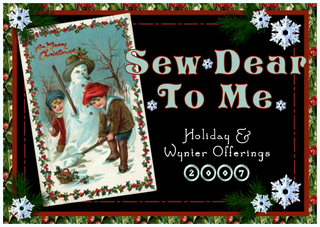 Guess I missed the boat on this one ~ I'll have to change up the text "Christmas in July" to something a little more current!